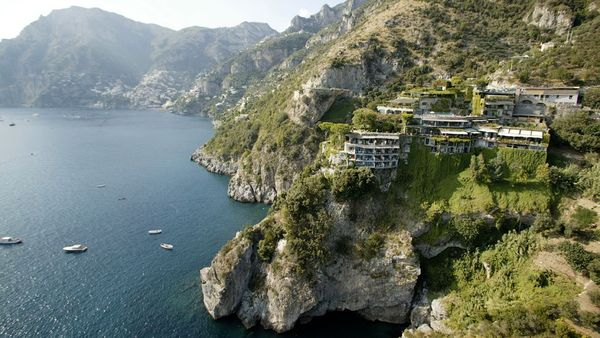 I love to travel, and given the vacation time, I'm game for traveling anywhere. Lately, however, my wanderlust has morphed into a bit of a hobby. I've noticed that I spend free time and my lunch hour trolling websites of exotic locations and hotels. Each day I feel an even greater need for an escape. With my next vacation not on the horizon until November, I'm teasing myself. But I can't help it. There's a reason why they call it wanderLUST.
Most of my fantasy trips involve a luxury hotel overlooking the Mediterranean. Capri is my #1 destination. I spent a day there years ago and decided it was the most magical place to which I had been. Who could be unhappy with a backdrop of turquoise sea, fragrant, colorful flowers, chic architecture, streets smelling of freshly baked gelato cones, and couture boutiques in a quaint European atmosphere? Stylesetters like Jackie O. have been traveling there for years. (I've come to learn that in style and in life, if Jackie O. liked it, then chances are, I will too). I dream of spending leisurely days outfitted in white exploring the seaside island on foot, stopping to sniff flowers, sip a cappuccino at a cafe, or eat my second gelato of the day. Meals are the grand Italian affair that they should be: soup, salad, fish, pasta, then dessert (and coffee after). I languish on the beach and read novels while trying to make sense of the Italian being spoken around me. I pop into chic boutiques and buy a piece here and there. Mostly, I long to be in Capri because it's a place where life is savored rather than simply spent.
Another one of my top travel destinations right now is decidedly more American. It's the quintessential American preppy beach town. Martha's Vineyard was lovely when I was there years ago, but I'd also settle for Cape Cod, Nantucket, Block Island, or even Montauk. I crave the classic aesthetic of the shingled homes, locations where I can play croquet, sip G&Ts in a glorified lawn chair, and feel fashionable in my polo shirts.
The common denominators of these two destinations? Simple, classic aesthetics and a relaxed atmosphere reminiscent of a bygone time. Each country's take on classic luxury.