I've noticed a lot of toile items popping up recently.  Toile, also known as toile de Jouy, originated in 18th century France, and referred to cotton or linen fabrics depicting scenes of the French countryside.  Since the 18th century, toile patterns have expanded to include a large variety of scenes from various locales.  Toile is sometimes confused with Chinoiserie, which is roughly French for "Chinese-esque."  Chinoiserie likewise depicts landscapes, however, they are distinctly Chinese.  Chinoiserie can also refer to a broader set of design elements that appears on furniture and accessories.  Chinoiserie merits its own post; I'll save that  for another day.  What I most enjoy about toile is that it tells a story.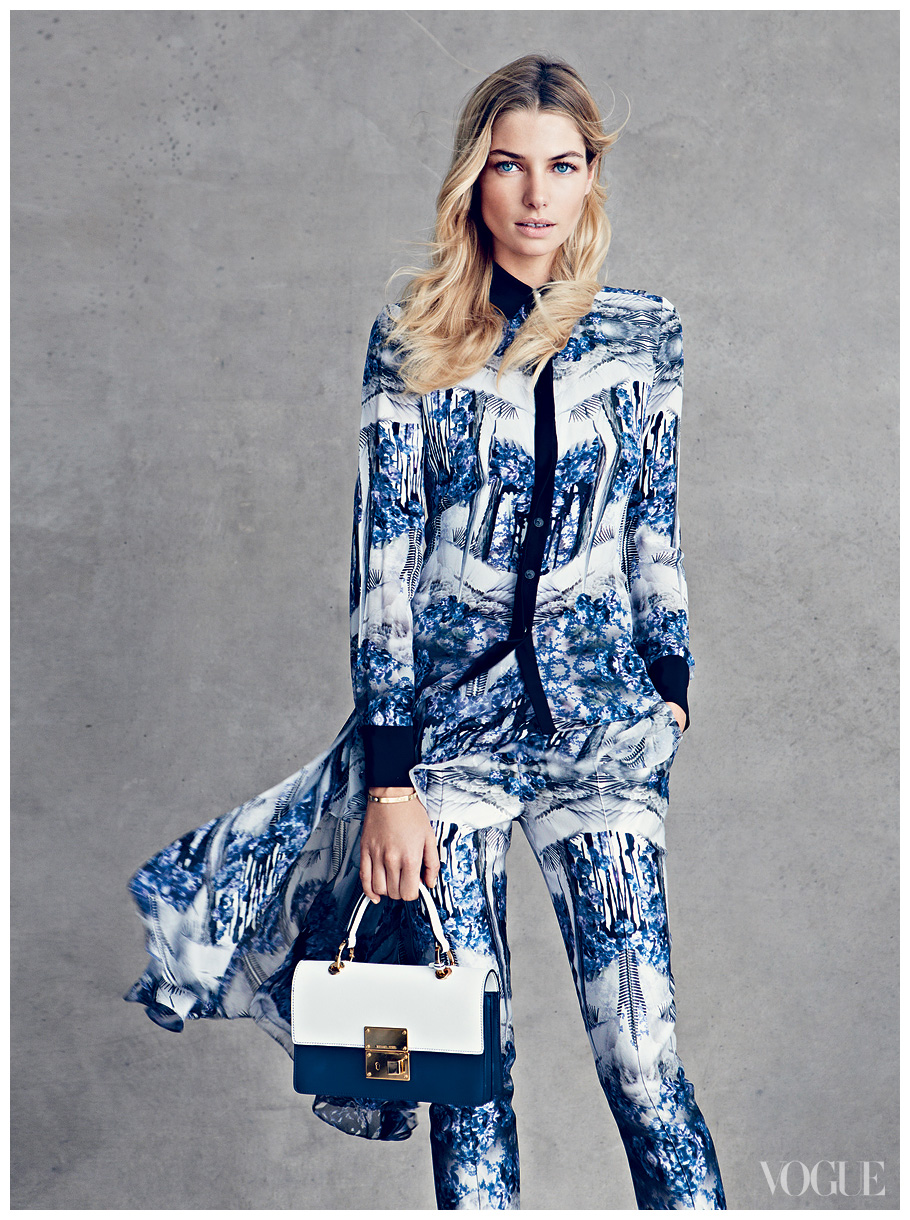 Jessica Hart in Vogue's February 2013 issue.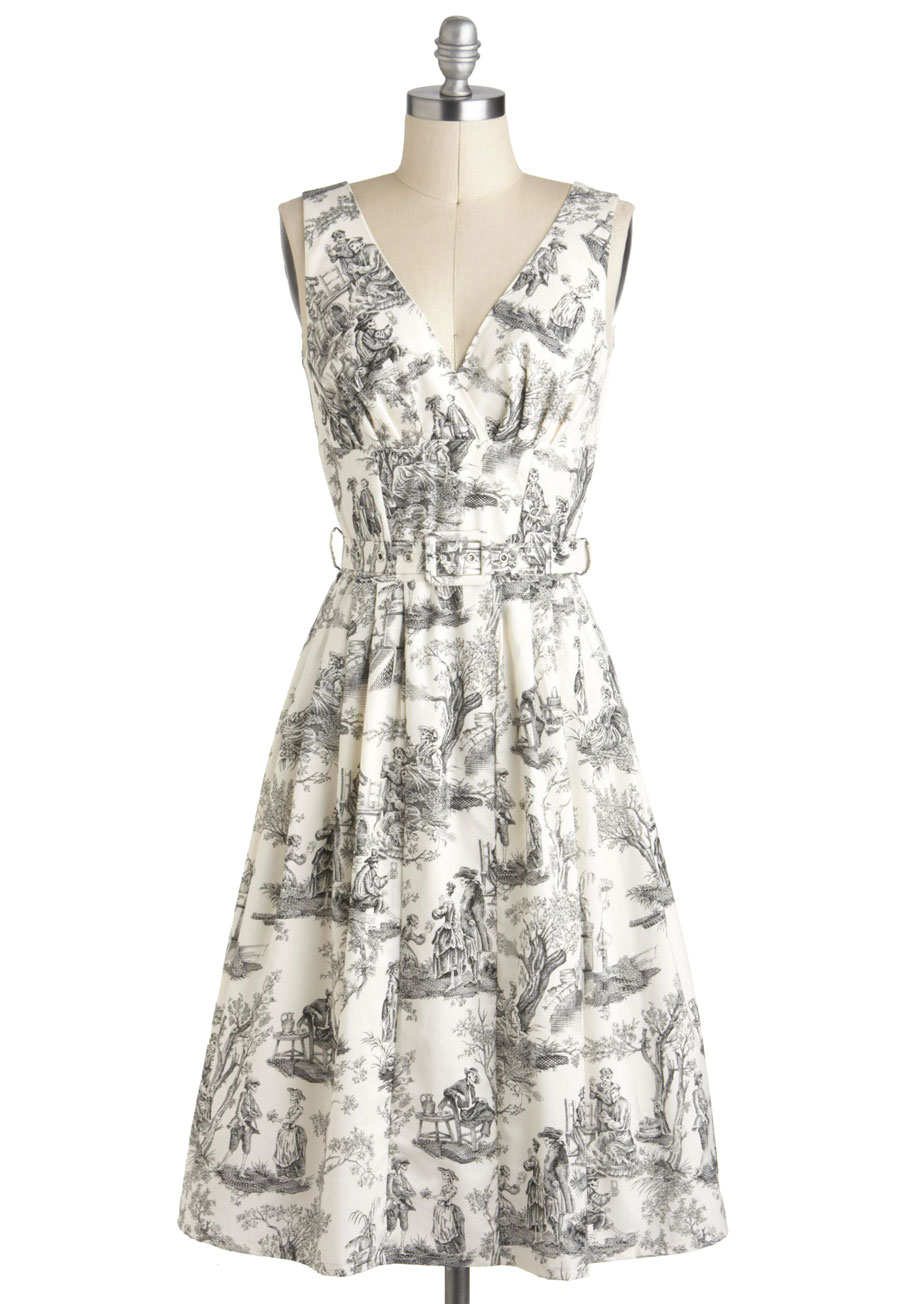 Dress by Modcloth.  I would replace the matching belt with a solid color belt.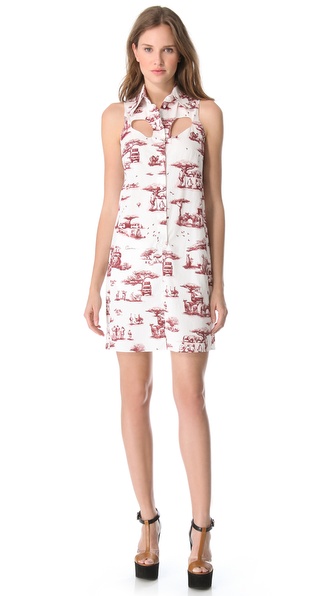 This more modern silhouette from Carven is the piece I would choose.  Carven currently has a slew of toile pieces, including this dress, these shoes. and this tote: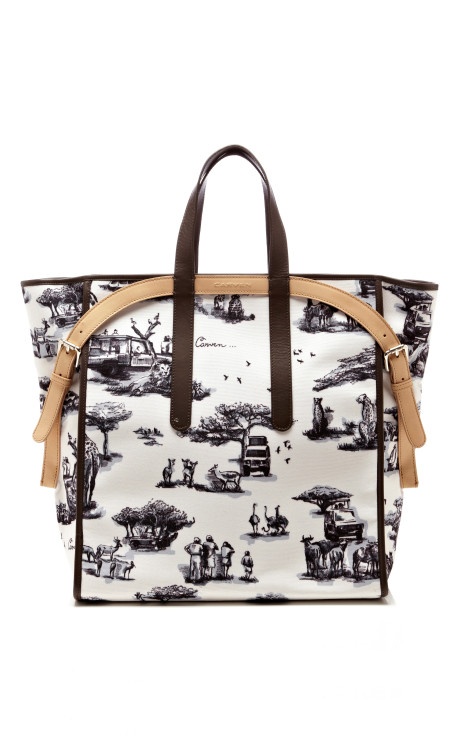 This toile blazer would take office looks to another locale.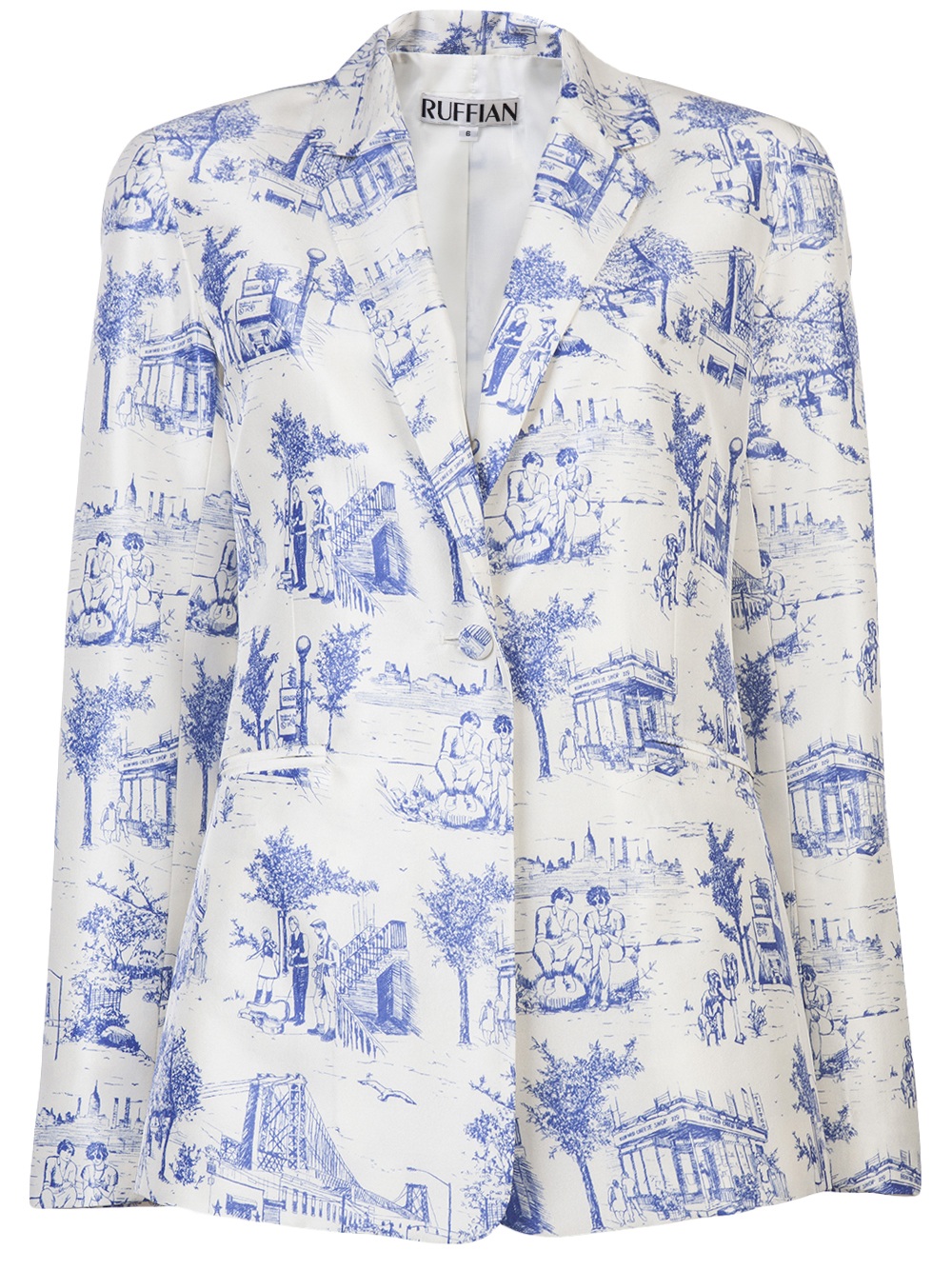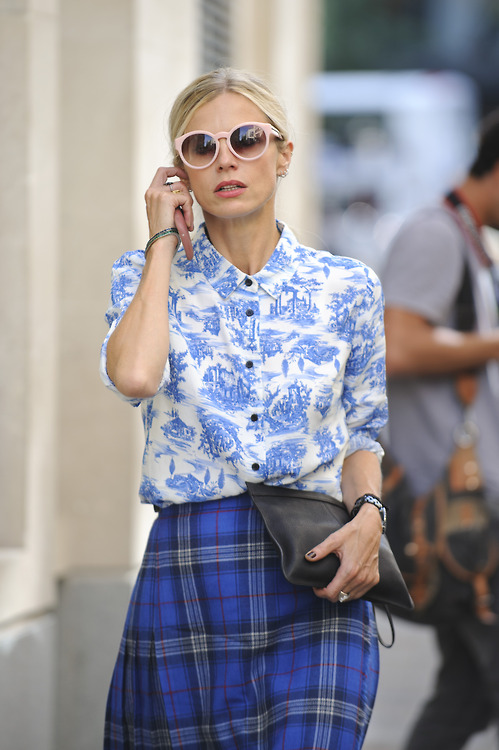 Laura Bailey mixes toile with plaid.  Image via Tumblr.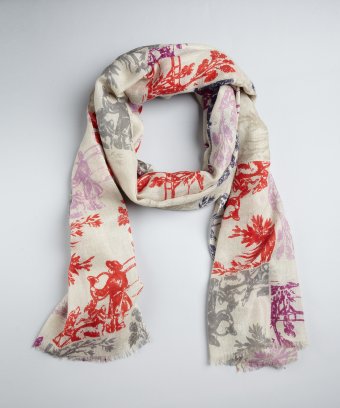 This MIR toile scarf is a great way to incorporate the toile motif into your look without having it take over your entire ensemble.  Also available in coral, blue, orange, turquoise, and brown print here.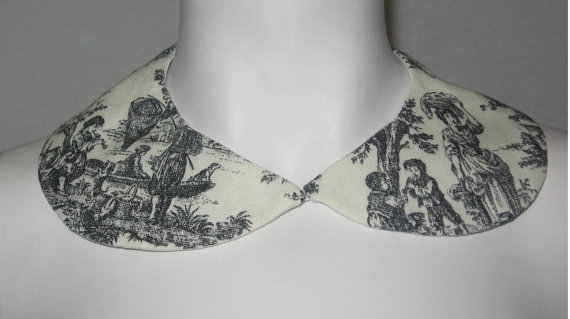 Etsy
For the gent in your life, a toile bow tie: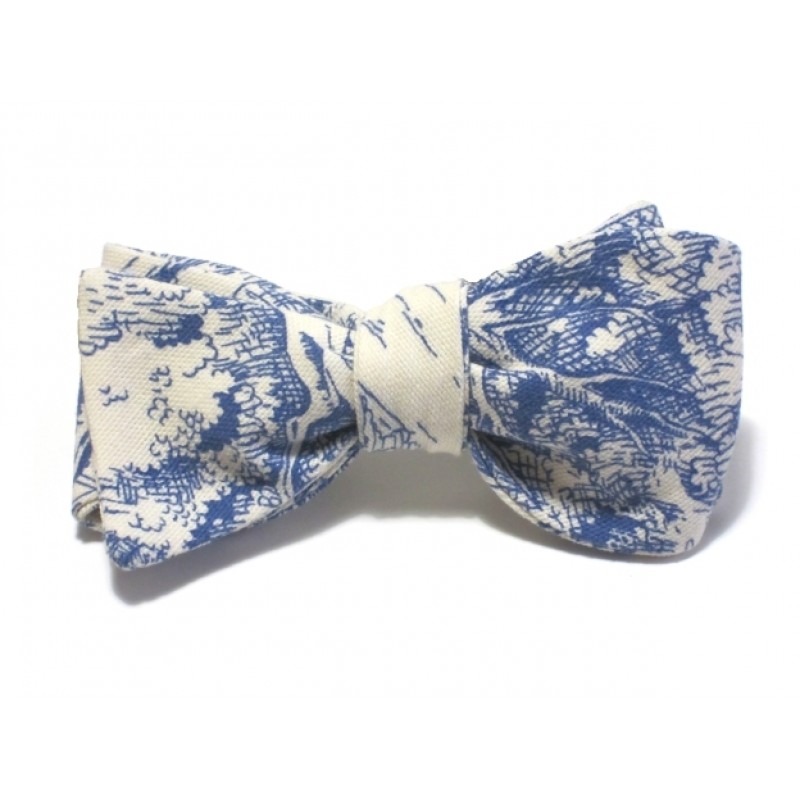 Country Club Prep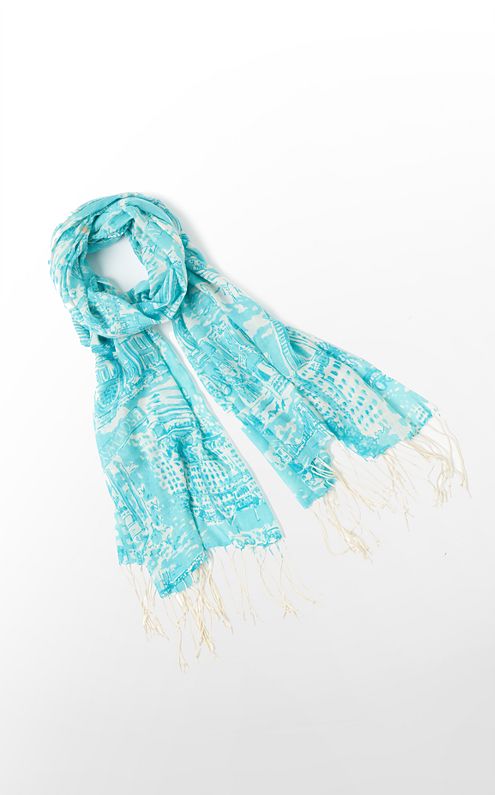 This Lilly Pulitzer scarf is one of my favorite toile picks for spring because the pattern is NYC Toile, depicting famous NYC spots.  Lilly Pulitzer has carried some fantastic toile pieces over the years.
I don't wear shorts, but I had to purchase a pair last spring just to own a bit of this fabulous Lilly toile fabric!  I still haven't worn them, but one of these days I will (or do something else with the fabric):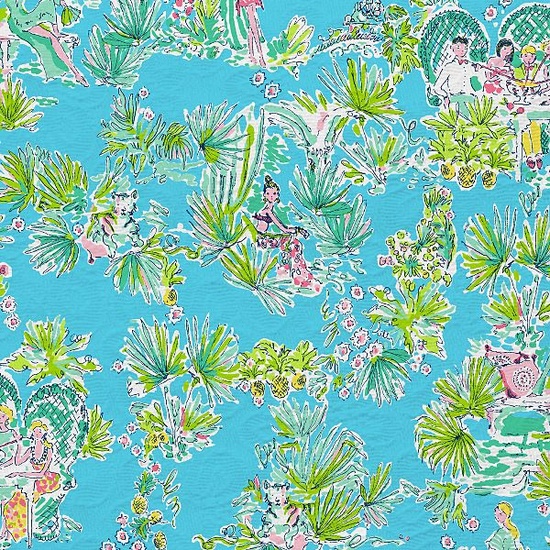 Lilly Resort 2012 Jungle Glam toile.
Like many fashion trends, toile is one that also translates easily to the home.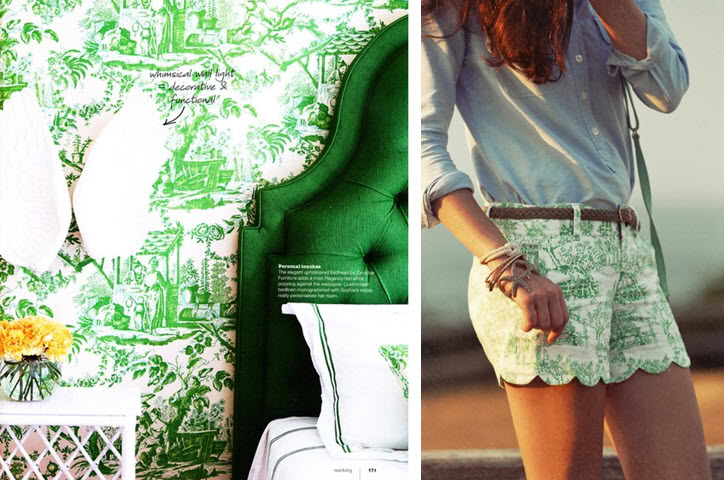 Marcus Design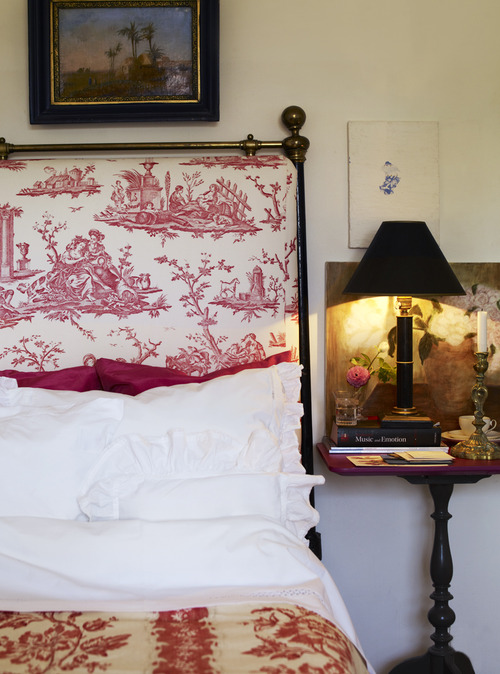 Tumblr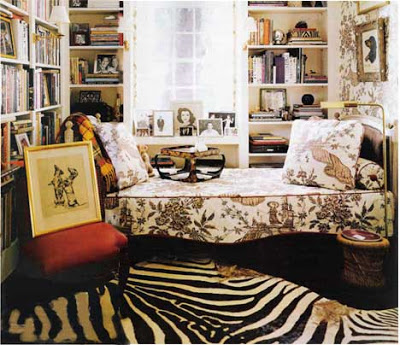 Tumblr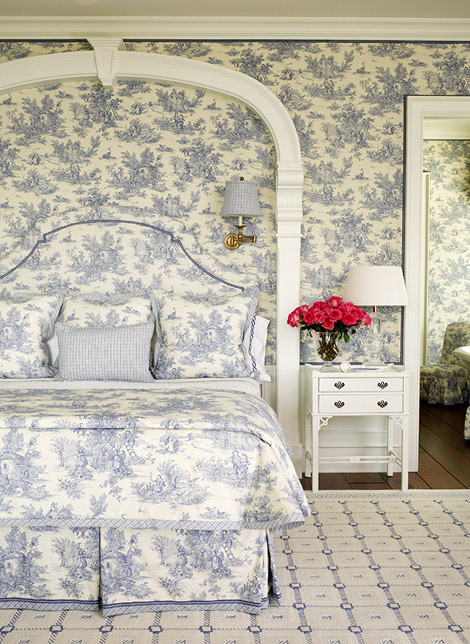 Blue toile room via Traditional Home.  Fabric by Hinson & Company.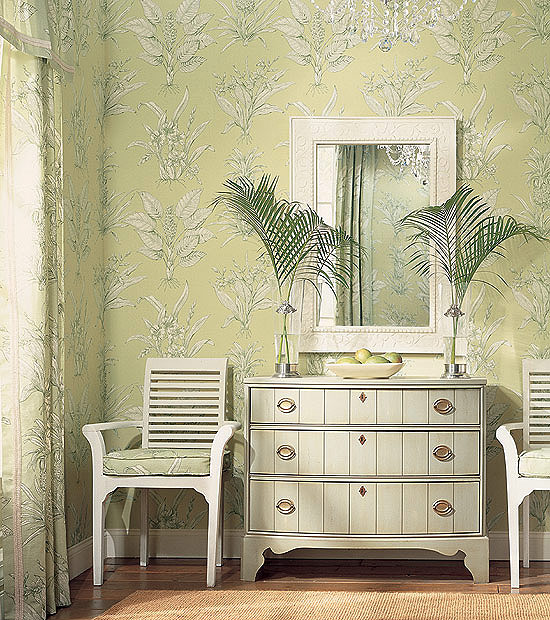 Toile goes tropical in a wallpaper from Thibaut.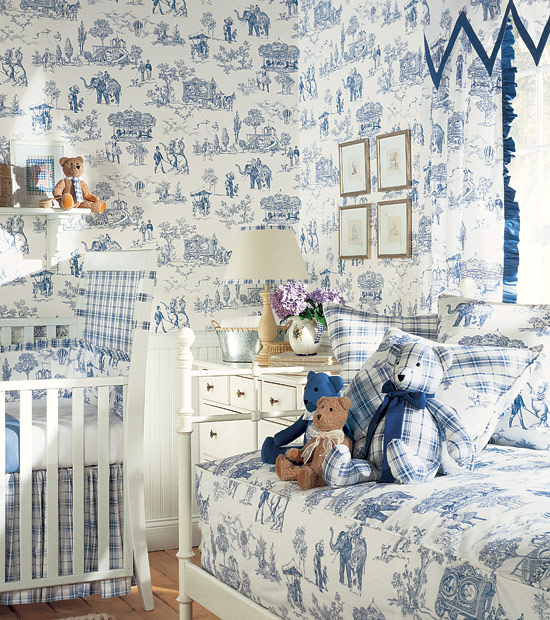 I adore this Thibaut carnival print for use in a child's room.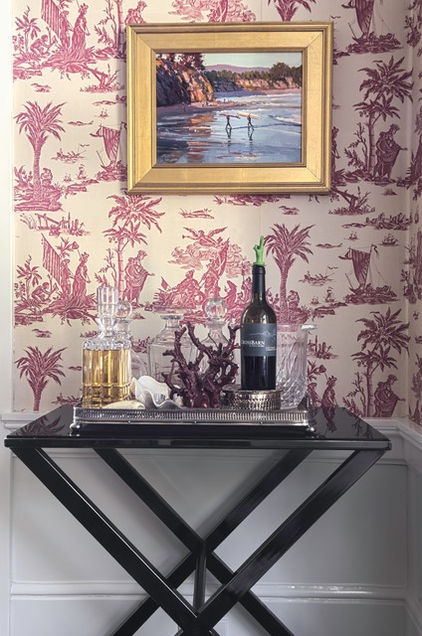 Houzz.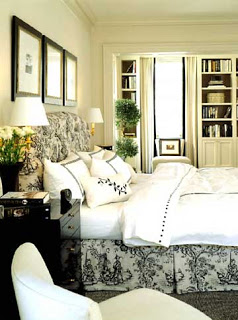 Tumblr
Aerin Lauder's toile bedroom via Vogue.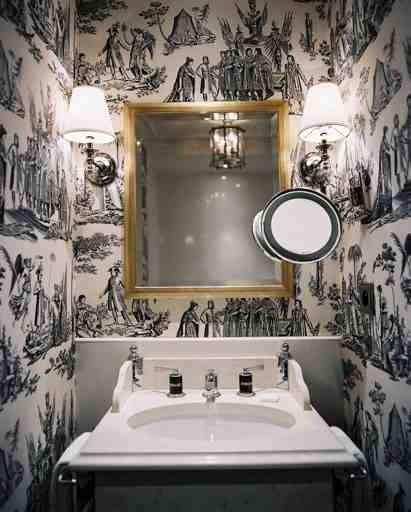 I love this black and white toile bathroom from Lonny.
Toile isn't just restricted to wallpaper.  You can add a dose of toile to a room with panels, window treatments, bed linens, or even a single pillow.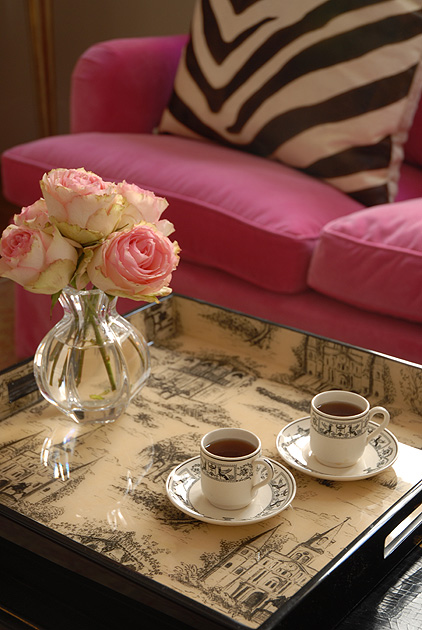 This black and white New Orleans toile tray table works well with a pink couch and zebra stripe pillow.
Toile fabric on dining room chairs adds a needed touch of pattern to this dining room: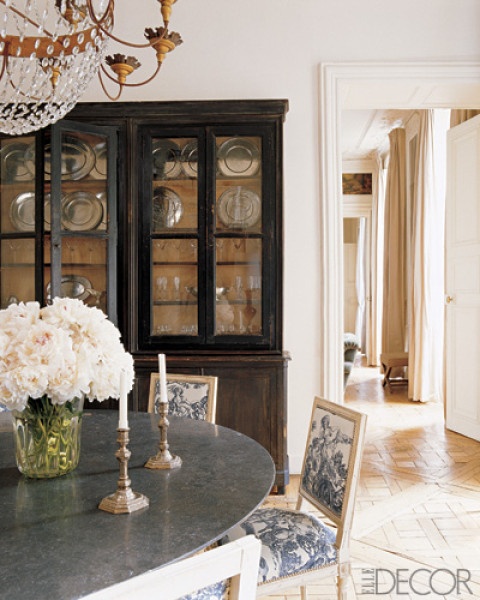 Via Elle Decor.
You can re-create the toile look in your home with these French Laundry linens: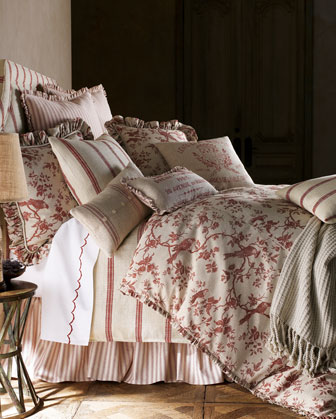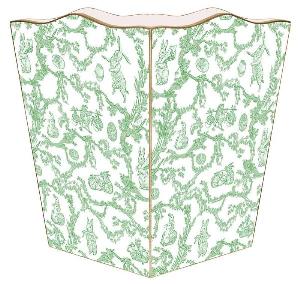 Bunny toile wastebasket from The Well Appointed Home.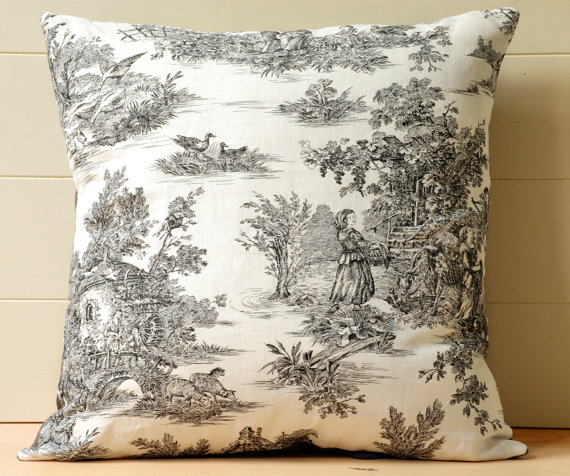 Toile pillow via Etsy.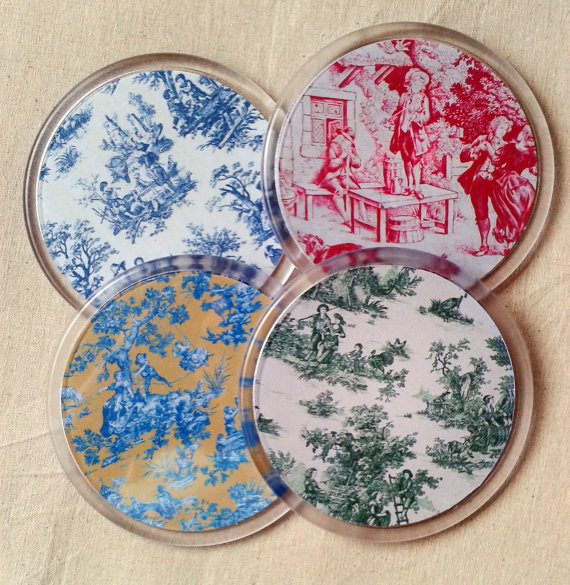 Toile coasters via Etsy.
Ralph Lauren, Hinson & Company, Thibaut, and Shumacher are all excellent resources for toile fabrics and wallpapers.  If you don't wish to paper an entire wall, consider framing a piece of toile fabric.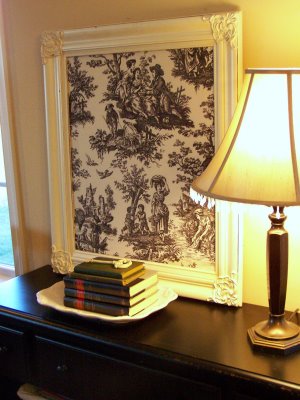 Pinterest.
Another creative idea is to hang English transferware (or other toile patterned china) on the wall as you would a collection of paintings or photographs.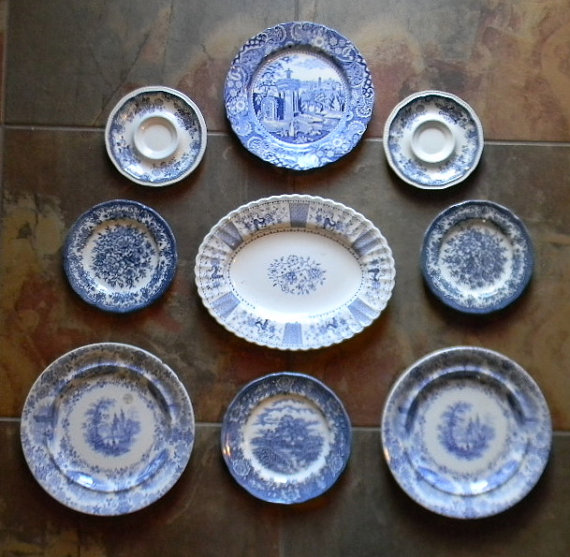 Etsy has a wealth of toile products, from corsets to crib bumpers.
Do you own any toile clothing or home accessories?  Do you have any resources for toile products?  If you could choose any pattern as a signature motif, what would it be?