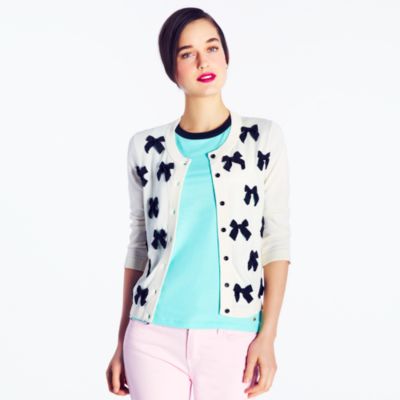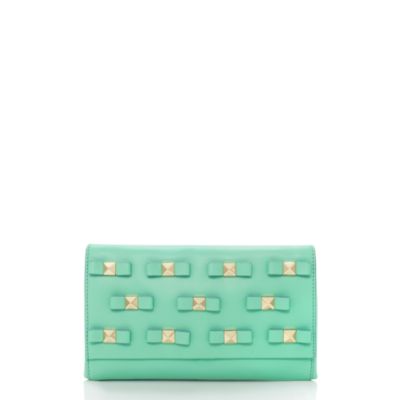 Kate Spade keeps taunting me with emails about their new bow bedecked collection.  For the past couple of years, Kate Spade has done a "Year of…" series with a theme highlighting a collection of merchandise each month.  Two years ago, it was a color, last year it was a pattern, and this year it is "Things We Love."  January's thing is a well-placed bow.  I'm a sucker for bows.  The above pieces are my favorites from Kate Spade's new collection.  One of my first bow items (circa 2004) was actually a pink leather Kate Spade purse with a subtle bow on the shoulder strap.  I still enjoy wearing this bag in warm weather.  I really should count the number of bow items that I own.  I have bags, shoes, jewelry, jackets, blouses, dresses, skirts, tees, sweaters…  Even my favorite sunglasses have bows on them. 
I have 2 rules about wearing bows:
1. No more than 2 or 3 bow items at one time.
2. The bows can't be too cheesy.  Cheeky yes, cheesy no.
Here are some current bow items that I love:
And the pièce de résistance, combining my love of both studs and bows…
Valentino rockstud bow flat sandals.
Of course, I'm always desiring Valentino and Oscar de la Renta bows.  Along with Chanel, these designers are the true bow masters.
Valentino shoes via Pinterest.
Oscar de la Renta gown via Weddings Illustrated.
I spotted this great tutorial for tying the perfect bow on George & Ruby, the blog of Oscar de la Renta Creative Head, Marissa Kraxberger.  I find this blog completely relatable as MK is also a mom with a career living and raising toddlers in NYC.
Lately the bow tie has been popping up on women and was recently highlighted on stylesetter Amanda Brooks' fabulous blog, I Love Your Style (By the way, her book of the same name is also great).  I adore bow ties on men and I think I might just try one myself, especially if I could look as cool as the girl pictured by The Sartorialist below.
 Are there any motifs that are your weakness?
How do you feel about bow ties on women?