Do you wear pajama shirts? Outside of the bed?  I do. While some may find the pajama shirt infatuation that took off in early 2012 passé, this "trend" is anything but over for me.  To me, the pajama shirt is simply a slightly altered take on a button down shirt.  And you know how I love button down shirts.  A pajama shirt is so classic, so stylish, and has such a tailored aura, that it deserves to be seen out of the bedroom. A pajama shirt looks chic, especially when paired with tailored separates and a great pair of shoes (and bag).  It looks effortlessly cool.
My first sighting of the trend was in late 2011 when the perpetually cool Sofia Coppola was photographed in Vogue wearing Louis Vuitton pajamas she designed.  Of course, Julian Schnabel: artist, Hollywood director, and husband of Olatz linens designer, Olatz Schnabel, was wearing them even before the PJ shirt made the pages of Vogue.  PJ shirts finally grabbed my attention for good when I saw Amanda Brooks wearing one in the April 2012 issue of Harper's Bazaar. I tore the page out of the magazine, pre-Pinterest obsession, and I may still have it. Ever since I saw these photographs, I haven't been able to quell my pursuit of pajama shirts.
Wearing pajamas out of the house apparently isn't new.  Coco Chanel did it, as depicted in the movie, "Coco Before Chanel":
I continually lust after the Gold Standard Olatz (Made in the U.S.A.!) version worn by Amanda Brooks above, but cannot bring myself to pay $465 for a shirt (and they never have my size online at Barneys)… Yet.  While researching this post, I discovered that all sizes and colors can be purchased through Olatz online. I'll have to check out their fabulous store in NY!
I satiated my desire a bit last year with the purchase of a black DKNY pajama shirt from Stylebop  with subtle white edging, identical to the one pictured below.  I have worn this shirt to death. It's one of those pieces that make me feel good, like the best dressed version of myself, every time I wear it.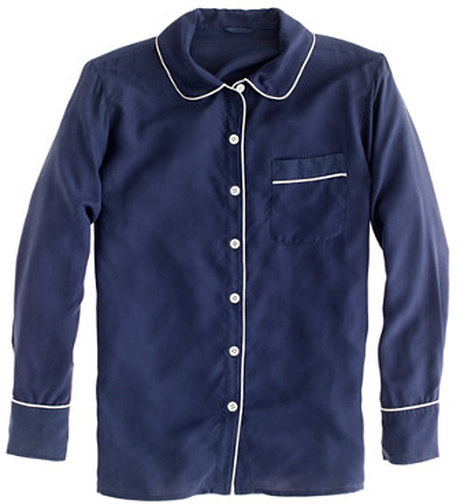 I've become confident enough about wearing a pajama shirt that I didn't even hesitate to buy the J. Crew pajama shirt pictured above (from the pajama section), which I plan to wear as a regular shirt. I took a bit of a risk, especially since the item was on sale and "All Sales Final" applied.  Although I could have sized down, I might try the elusive half tuck that Lucy of A Leopard's Spots has mastered.  This PJ shirt will pair nicely with some navy J. Crew Minnie pants, jeans, or white pants. I plan to use the photos in this post for some styling inspiration.  While the J. Crew PJ shirt is now out of stock, there are cotton versions available.  I also recommend trying the versions made by Piamita and Equipment, both currently on sale.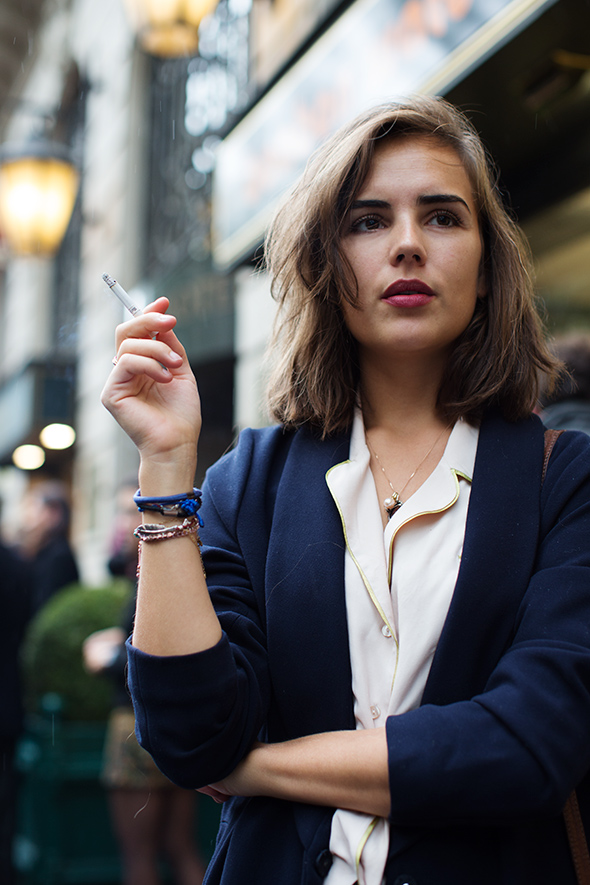 Parisian lady via The Sartorialist.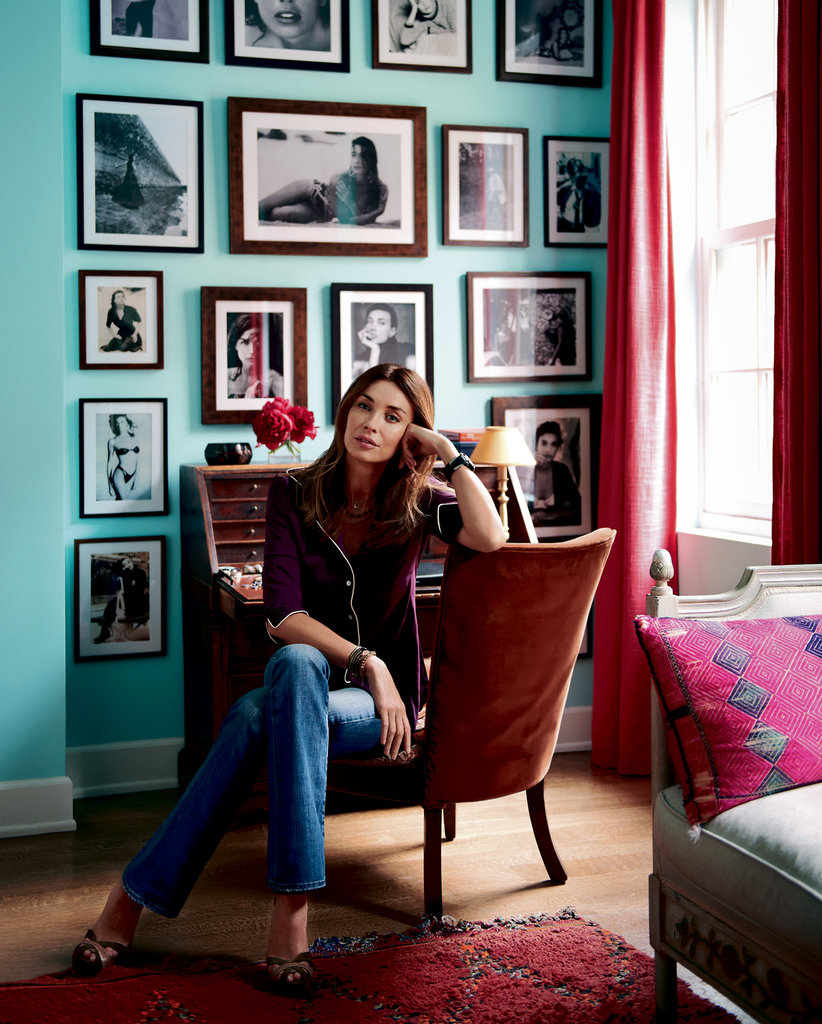 Olatz Schnabel, wearing one of her creations, via The New York Times.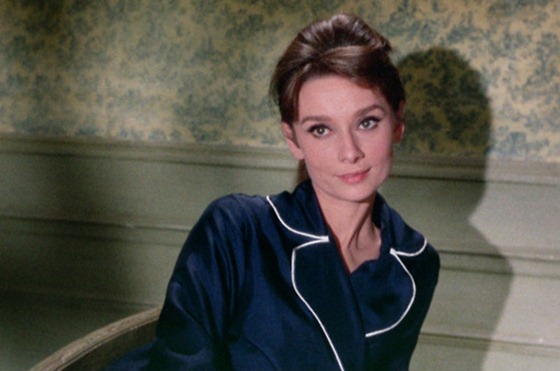 Audrey Hepburn wearing piped PJs in Charade.  Image via Best of Dress.
While I love pajama shirts, I draw the line at pajama pants worn without a matching pajama shirt, no matter how luxurious the pants might be. Although pajama pants are appearing more regularly in stores than pajama shirts these days, they just seem sloppy to me. A pajama shirt at least more closely resembles a regular shirt; it's simply a silk blouse with some bedtime details.  I actually find that a matching set of pajamas looks better than a pair of pajama pants alone.  If I tried it myself, though, I think I would restrict my wearing of this ensemble to entertaining at home.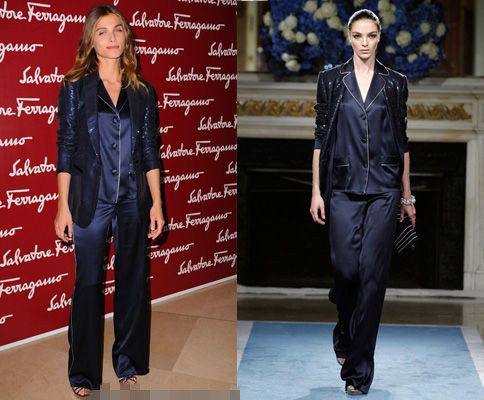 Elisa Senaoui sporting Ferregamo PJs from the SS12 Collection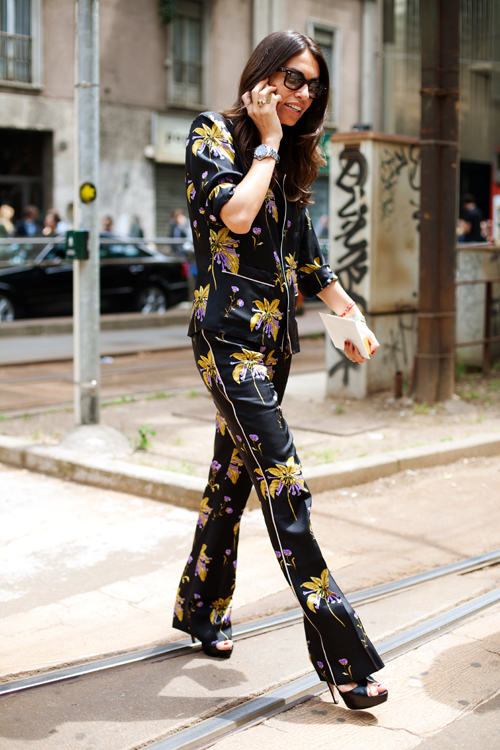 Viviana Volpicella via The Sartorialist

Piamita Geometric Cat Print PJ outfit.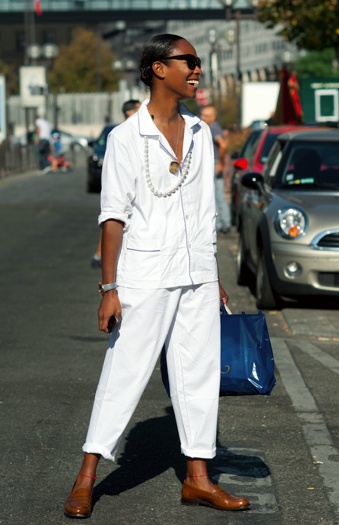 Shala Monroque in chic all white Olatz PJs via Mark D. Sikes.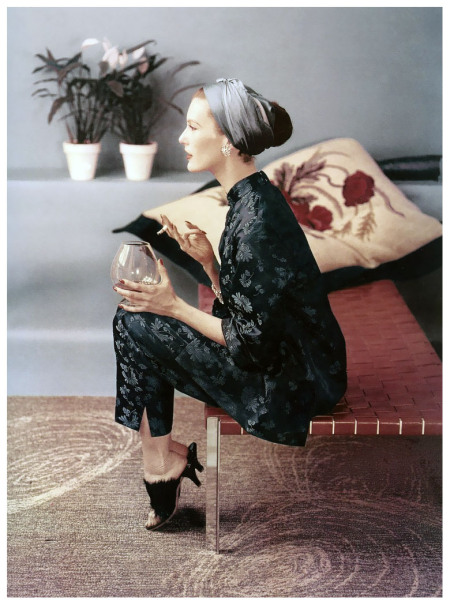 Mary Jane Russell photographed by John Rawlins in Vogue, December 1953.
Clearly, I'm not planning to put this trend to bed anytime soon.
Do you wear pajama shirts? Pajama pants? Would you? What pieces of clothing make you feel like the best dressed version of yourself?