Now we take a completely different fashion turn from Saturday's Kentucky Derby to this year's Metropolitan Museum of Art Costume Gala, "PUNK: Chaos to Couture." The Met Ball is one of those annual fashion events, like The Oscars, that fashion lovers enjoy critiquing. Each year, some attendees adhere to the chosen theme while others (Ahem, Anna Wintour) dress as they would for any ball. My personal opinion is that at a Costume Ball, attendees should wear a Capital C costume, instead of a blasé gown that looks like it could fit any formal occasion.
I've read that some were not pleased with the theme and desired one that lent itself to more beautiful dressing, but I personally liked it. With the proliferation of stud details, leather, and punk accessories, like ear cuffs, spiking the pages of Vogue, there are certainly options abounding. I also believe that a costume ball should allow its guests to present themselves in a way that is unexpected, and this theme does just that.  When critiquing dresses for a costume ball, I'm willing to embrace details that I might ordinarily find veer into questionable taste.
Below are my picks for best and worst dressed. I'm basing my opinion primarily upon best illustration of the punk theme.
Images via Harper's Bazaar unless otherwise noted.
THE BEST: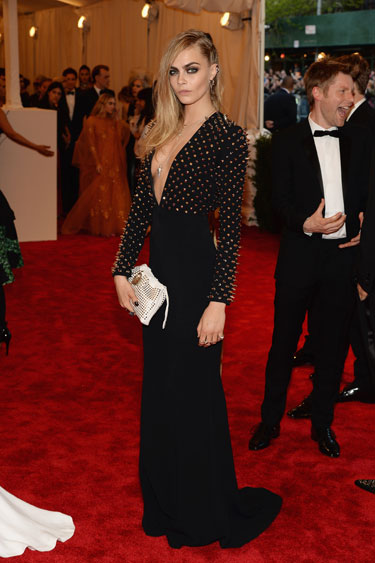 Cara Delevigne in Burberry.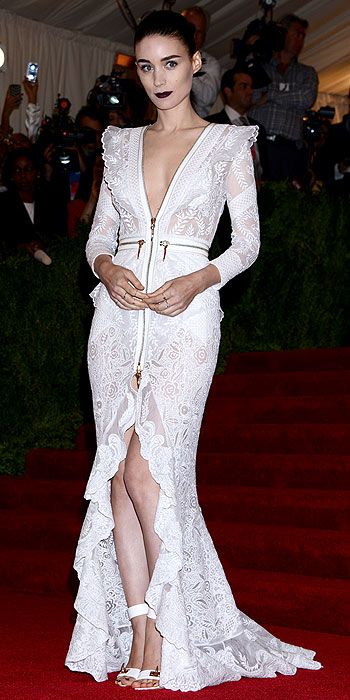 Rooney Mara in Givenchy via People.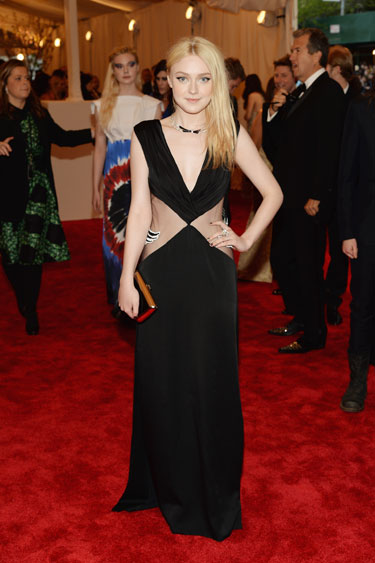 Dakota Fanning in Rodarte.  Check out the stunning back of the dress too!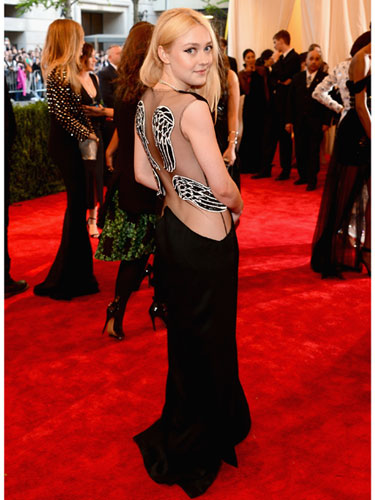 Image via Marie Claire
Sienna Miller in Burberry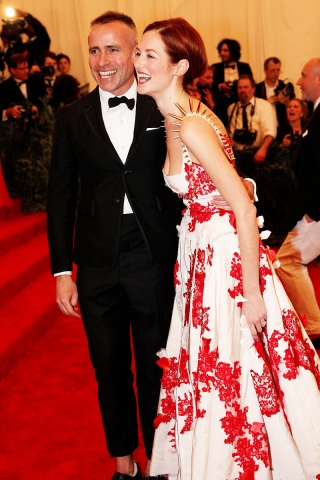 Taylor Thomasi Hill in Thom Brown via Vogue.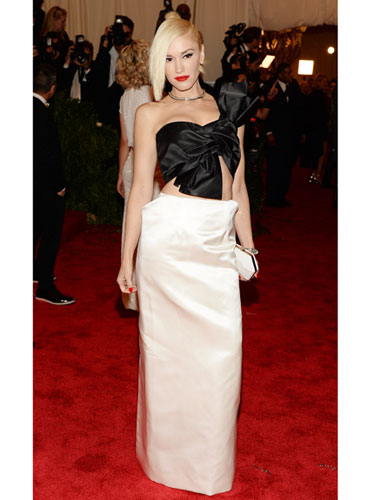 Gwen Stefani in Maison Martin Margiela via Marie Claire.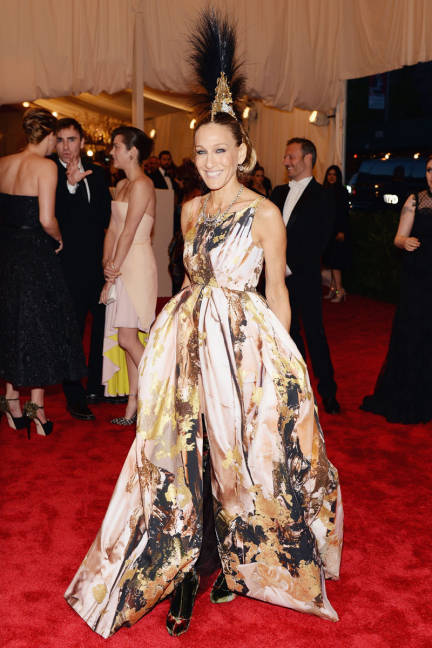 Sarah Jessica Parker in Giles Deacon and a Philip Treacy hat via Elle.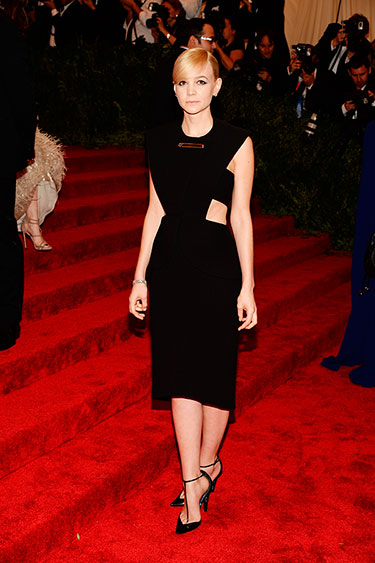 Carey Mulligan in Balenciaga by Alexander Wang.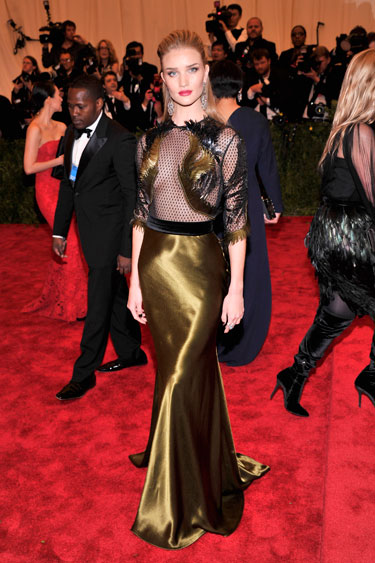 Rosie Huntington Whitely in Gucci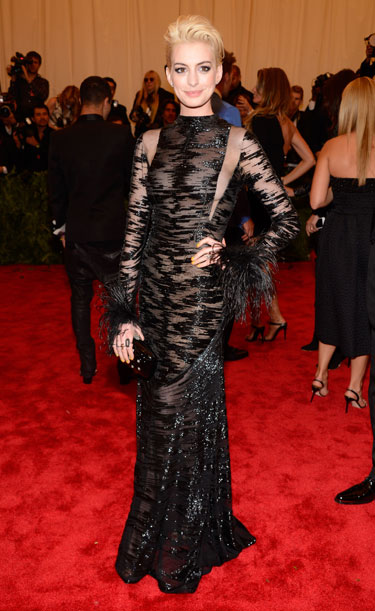 Anne Hathaway in vintage Valentino.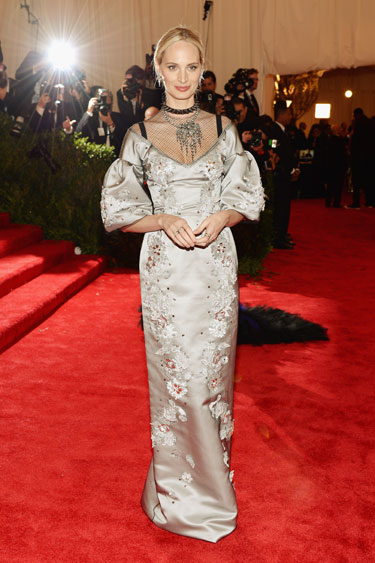 Lauren Santo Domingo in Dolce & Gabbana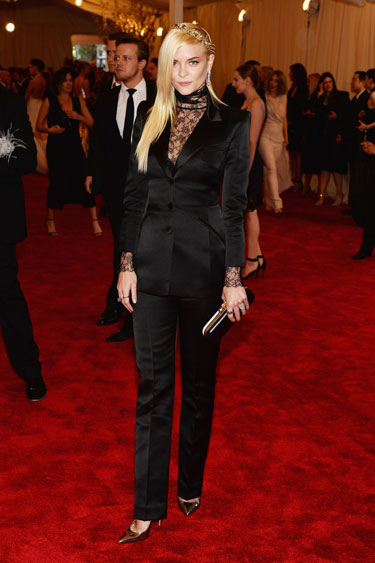 Jaime King in Topshop.
Anja Rubik in Anthony Vaccarello.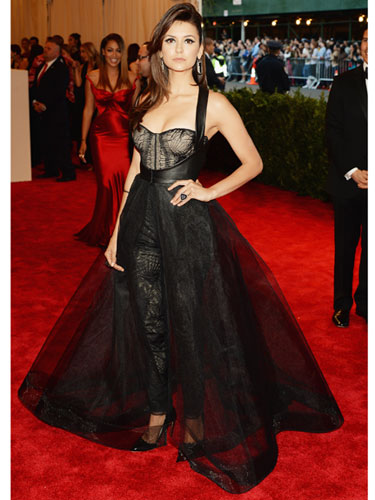 Nina Dobrev in Monique Lhuillier.
THE WORST: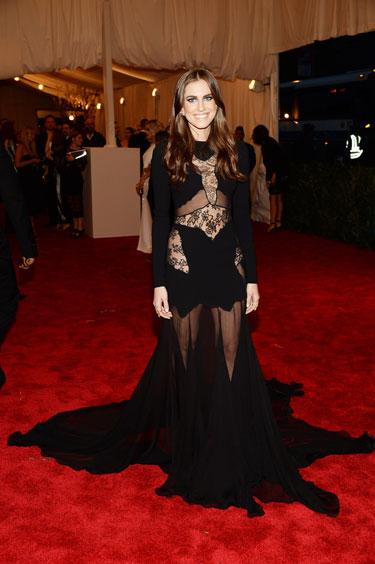 While she certainly embraced the punk theme, I think that Allison Williams' Altazurra dress is a mess.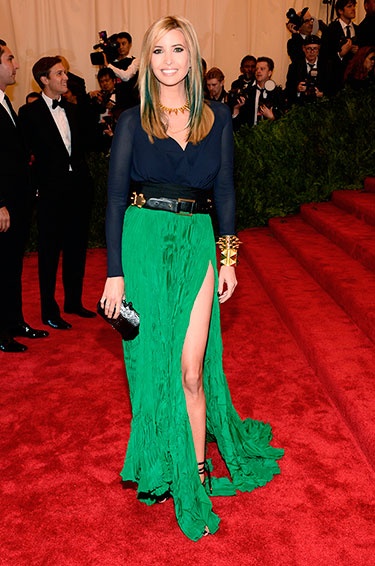 While the beautiful Ivanka Trump is almost always in my best dressed category, I think she misses the mark here.  I love her punky jewelry but the mix of navy and green here is too casual for the Met ball and incongruous with the theme.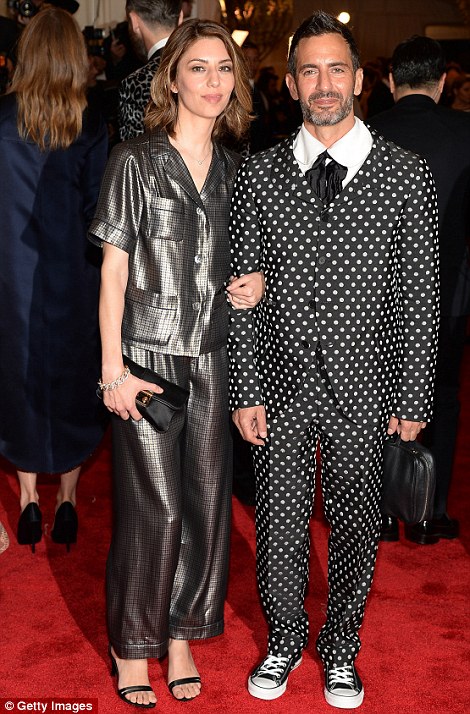 I normally adore anything Sofia Coppola wears, but her pajama outfit does not fit the theme, either.  Image via Daily Mail.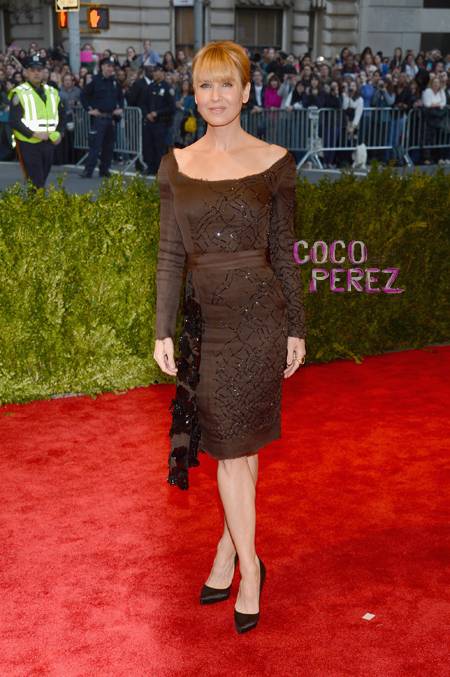 Likewise, the usually lovely Renee Zellweger failed to impress me this time around.  She simply looks dowdy in this Prada dress, which is more Mother of the Bride than Mother of Punk.  Image via Perez Hilton.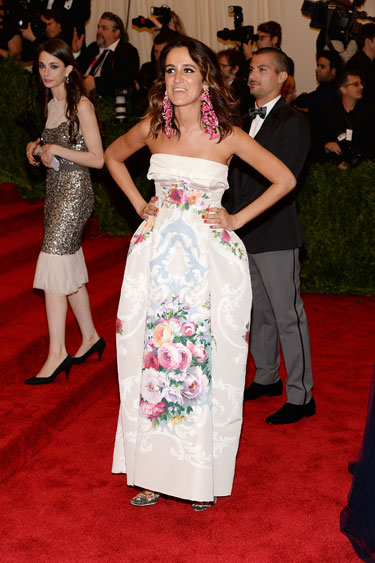 Coco Brandolini's Dolce & Gabbana dress is a fail for me.  While it embraces the punk flower aesthetic, the shape of the dress, paired with those beyond tacky earrings, is just too much for me.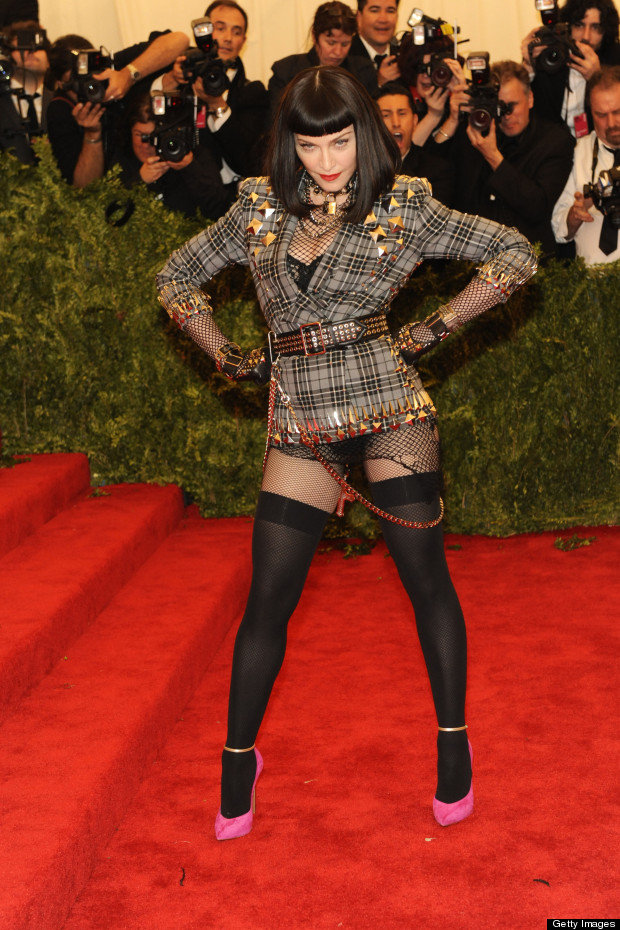 Madonna is definitely punk, but decidedly not glamorous in this get up.  Image via My Daily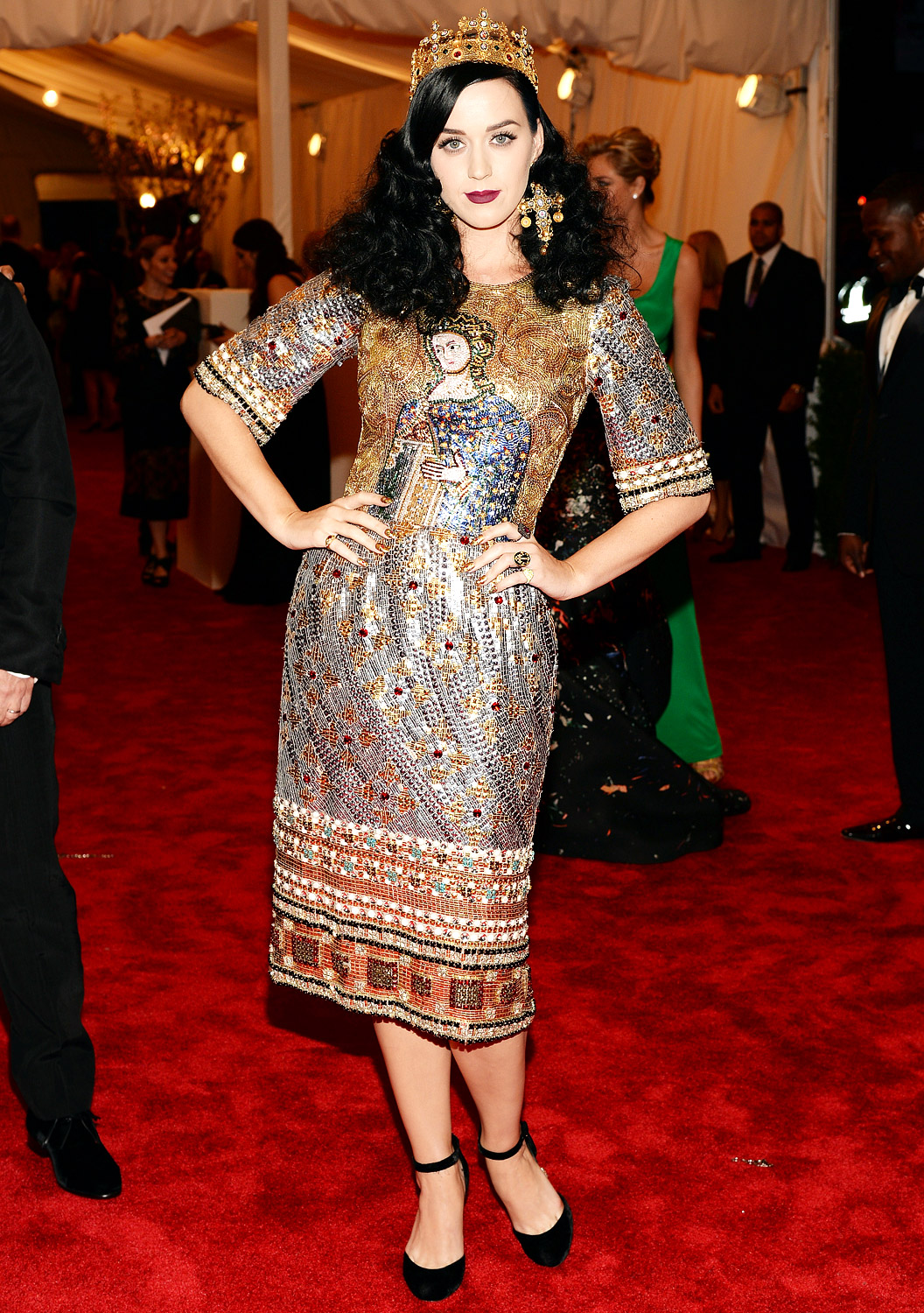 Katie Perry looks more like a Renaissance fresco than a punk princess.  Image via Us Magazine .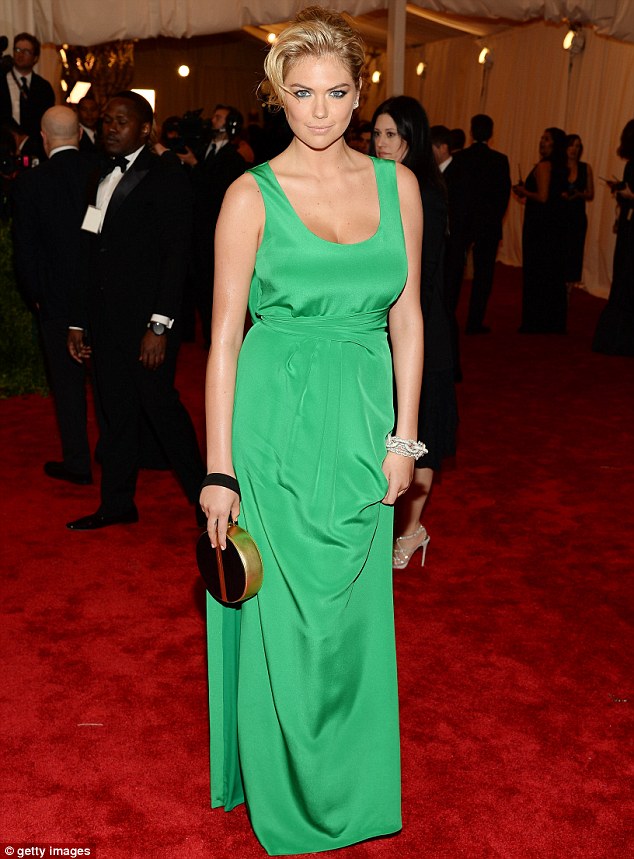 Kate Upton, in Diane von Furstenberg, is one of those attendees who ignored the dress code and looks instead like she could be attending a wedding rather than a punk themed costume ball.  Image via Mail Online.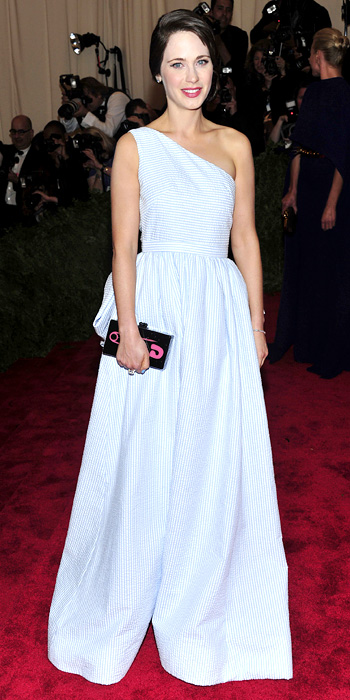 And Zoey Deschanel, who aims for a bit of punk with her handbag, fails miserably in her Tommy Hilfiger seersucker gown.  I read that Tommy's idea was to create an original version of the punk theme, but this dress is neither punk nor gala appropriate.  Image via People.
As an Apollo Circle member of the Met, I'm looking forward to viewing this year's costume exhibit in person.  Expect another punk post soon with my thoughts and photos on the exhibit.
What do you think of this year's Met Costume Gala theme? Which attendees do you deem Best and Worst dressed for this event? What would you wear to this event?